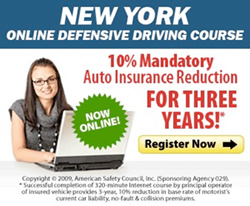 Take an online defensive driver course. You can save 10% for three years on your automobile liability, no-fault and collision premiums by completing an online defensive driving course. The course can be taken at your leisure and completed in increments from any computer with internet access and the discount is guaranteed for three years. For your convenience, we have included a direct link to one of the approved online courses to the left.
Don't forget to send us your certificate of completion so that we may request that the defensive driver credit be applied to your auto insurance policy.
Usage Based Auto Insurance Usage based auto insurance is a newest discount available to safe drivers who want to save money on their auto insurance. Personal auto insurance companies have historically used claims history, motor vehicle reports (MVRs), driver age/sex, vehicle use and a financial score to predict the likelihood of future claims. With access to improved technology, insurance companies have expanded the information upon which they can price their auto insurance products for drivers who voluntarily choose to share their individual driving habits using a small electronic device. The small electronic device provided by the insurance company easily attaches to the automobile's computer system which then measures driving habits such as hard braking events, rapid acceleration events, total miles driven and duration of nighttime driving. These four measurement points provide additional factors that more accurately predict the likelihood of a future automobile accident. The more favorable the measurement points, the larger the premium discount a good driver can earn. Drivers who exhibit the most favorable driving habits as measured by the usage based device will realize significantly lower auto insurance costs. Interested in saving money with usage based auto insurance? Simply call Watertown Insurance Services in Clayton New York to find out how much usage based auto insurance can save you and your family.
Maintain a good credit history. Your personal credit history plays a major role in your auto insurance costs since statistics show that drivers who pay their bills on time have fewer claims. Paying your insurance bill, credit cards and household bills on time can all help you maintain a high credit score and thus lower your auto insurance costs.
Avoid tickets & accidents. Your driving record and accident history are still key factors which can significantly impact your auto insurance costs. If you receive a motor vehicle violation, consider working with the district attorney's office or court where the ticket was issued to negotiate the number of points assigned to your license or reduce the original citation to a lesser charge or non-moving violation.
Consider higher deductibles or removing coverage on older vehicles. Insurance companies offer discounts in exchange for selecting a higher deductible. Consider a higher deductible if you can afford to retain more of the cost at the time of a claim. If your vehicle is older than five years or has a book value less than $5,000, it is likely not worth spending premium on both comprehensive & collision coverages. Please contact us if you would like to review your current coverage and the savings you could realize from selecting higher deductibles.
Bundle your auto and homeowner/renters insurance. Most insurance companies offer a substantial discount (10% or more) for placing your auto insurance and homeowner/renters insurance with the same carrier. Please contact us to see if bundling your coverage can reduce your auto insurance costs.
Take advantage of discounts. Insurance companies offer a wide variety of discounts for paying in full, enrolling in automatic payments (EFT) or paperless billing and installing anti-theft devices on your vehicle. Call us today to review the discounts available on your auto insurance policy!